Reminding all Associate members that application process for 2015 National Juried Competition has begun and the deadline is June 28
AWA encourages all of its Associate members to apply for the 2015 National Juried Competition. Read more in the May newsletter…
News from American Women Artists
AWA Associate members!
Time to Enter the AWA 2015
National Juried Competition
Deadline to Apply: June 28, 2015
American Women Artists 2015
National Juried Competition Exhibition & Annual Members Show
Exhibit dates: November 12 – 30, 2015
Bonner David Galleries' dual gallery destination is located on Main Street in Old Town Scottsdale Art's District. Representing a remarkable selection of traditional and contemporary artists, the Gallery is a popular location on the Scottsdale Art Walk circuit, providing an exquisite art experience in a beautiful, professional setting.
AWA encourages our Associate members to apply for the National Juried Competition. Final works selected will be shown in the 2015 National Juried Exhibition, alongside AWA's Annual Master & Signature Show at Bonner David Galleries in Scottsdale, AZ. The final selection will showcase a diverse group of representational women artists who draw, paint or sculpt in traditional or contemporary style and demonstrate overall excellence
in composition, technique, mastery of medium, and design.
Total Awards: Over $30,000 in cash and prizes, with a Best of Show award package of approximately $10,000 value.
American Women Artists
25th Anniversary Celebration Workshops
In celebration of AWA's 25th Anniversary and exhibition events in Scottsdale this November, we are partnering with the Scottsdale Artists School to bring our members three days of fall workshops taught by several of our Master Signature and Signature members.

Don't miss this opportunity to work alongside some of our most accomplished artists on a campus steeped in the history and traditions of fine art. Space is limited, so mark your calendars and sign-up online at the Scottsdale Artists School.
Workshop Schedule
Landscapes/Still Life Using Photo Reference
Dual workshop with Master Signatures Linda Glover Gooch & Joni Falk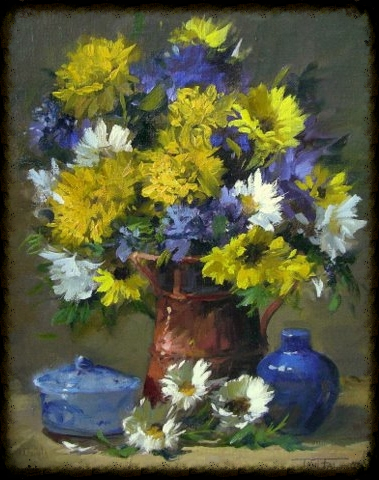 Tricks and Techniques
for Animal Sculpture
Monday, November 9-
Tuesday, November 10
with Master Signature Diane Mason
Using Plein Air Studies Effectively
with Master Signature Ann Larsen
Successful Plein Air Painting
in a 2-Hour Window
Tuesday, November 10
with Signature Colleen Howe
Find Your Vision & Keep Your Focus
Wednesday, November 11
with Master Signature Nancy Boren
Strong Light & Shadow

Tuesday, November 10-Wednesday, November 11
with Master Signature Elizabeth Robbins
Studying Light & Color
in the Landscape

Wednesday, November 11
with Master Signature Kim Casebeer
Welcome our newest AWA Board Members
Aleta Carpenter
I am thrilled to be on the board of an organization melding two of my passions: art and promotion of women! I look forward to utilizing my nonprofit and public relations experience on behalf of AWA and to serving the membership with dedication and enthusiasm!
Maybe it was inevitable that Aleta Carpenter would find herself affiliated with AWA. She's written articles for The Plein Air Scene. She supports women artists. She is a serious art collector with pieces by AWA Past President Star Liana York and by current President, Kathy Lemke Waste, both of whom she has come to know personally over time.
After spending 30 years involved in California politics and public relations, today Aleta devotes most of her energy and expertise providing public relations services for non-profit organizations in Northern California. Among other things, Aleta serves as the vice-chair of the Youth Violence Prevention Council, is a cabinet member of The Women's Fund, communications coordinator for the Tobacco Education Coalition and is a fund-raiser chair for One SAFE Place.
Her extensive background in communication, public relations and journalism, combined with a wealth of experience serving nonprofits brings a truly valuable set of skills – along with a collector's eye – to American Women Artists.
Robin Knowlton
I was astonished by the quality of work I was asked to judge for AWA's Spring Online Show. Seeing so much talent, there was no question that I wanted to be part of the organization. I'm looking forward to the national juried show in November and the chance to get together with professional women artists from across the country.
Owner of the Knowlton Gallery in Lodi, CA and this year's Spring Online Show Awards Juror, Robin Knowlton knows a thing or two about selling art. The Knowlton Gallery, currently being reconfigured into an online Gallery, is world-renowned for representing award-winning artists like Kim Lordier, Kathleen Dunphy, Ray Roberts and Peggi Kroll-Roberts.
"I got to know Robin when she asked me to be in a group show she was organizing," said AWA President Kathy Lemke Waste. "after that there was no question that I wanted to be affiliated with her gallery. She deeply respects her artists, works harder at marketing than anybody I've ever met and knows the business inside and out."
"Not only that," Kathy added, "Robin brings much more to our board, since before she opened her gallery, she was the Director of Development for a healthcare nonprofit and a freelance grant writer."
Shannon's submission "Perspectives" won our contest #AWANewnews for the new title to AWA's Monthly Newsletter. Thank you to all the ladies who participated and help make this contest a success. The judges and voters had so many wonderful submissions to choose from and it was a close vote.
Look for Shannon's Feature Profile in our Monthly Newsletter Redesign due out this Summer.